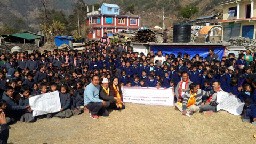 On 1st of February 2016
Right after the devastating earthquake in April 25th,2015 , We went on a survey outside of the kathmadu valley. On the course of survey we reached Melamchi in Sindupalchok district( the most affected place) there we met one of our good friend who was engaged in some government project on learning our survey he quickly told us about a small remote village Gunsa on the hillside of Sindupalchok, where the people living there were facing massive problems but the most immediate need at the moment was warm clothing for the children who had no choice but to study under open sky in freezing weather.
On hearing about the situation we went up to the village witnessed the situation spoke to the village committee head , teachers we asked the teachers to give us the details of students from the only 2 schools in Gunsa.
On 1st of February 2016…early morning team of Azizz Foundation set off to Sindupalchok with 509 pieces of warm jackets for the students of the only two Schools in Gunsa (SAATKANYAMATI SECONDARY & KUMBESHWARI PRIMARY School). On the way we faced many difficulties including the threat of after shock but we felt it was worth coming through all those trouble as we could see the smiles on childrens face, their parents teachers, it really was worthy.
It was pleasant to see the smiles on each children's faces but it would not have been possible without the support from MR.PAUL FORCE of USA a very good friend of ours. Also we appreciate the supports from:
Mr./ Mrs. Sadhana Bhandari Shrestha
Mr. Ali Rasheed
Mr. Mingma Sherpa
Mr. Kishan Bhandari
Mr. Gyan Prasad Gurung
Mr. Pasang Gyaltsen Sherpa
Mr. Bhimsen Rayamajhi
And Top Himalayan Guides Pvt.Ltd Trekking & Mountaineering for providing us the vehicle.